This time around I am bringing you a selection of Star Wars toys from the Wards 1978 Christmas catalog.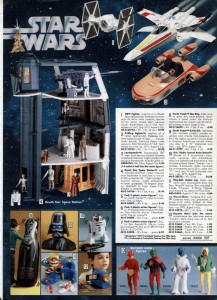 These Star Wars toys are the ones I remember the most from my childhood. I thought the Death Star would be cool to have but at the time I was using my Star Wars figures with the Matt Mason space station, which is probably why my parents didn't get me the Death Star, but a friend of mine had one so I still got to play with it. I also had most of the figures in the upper left and the Landspeeder. (The Landspeeder is the toy that met its demise when I powered it up with a C6 model rocket engine.)
The model kit of Darth Vader's head was a bit of a let down. When I started to put it together, I was sadly disappointed to find out the "rasping breathing sound" was made from brushes rubbing against plastic. They were putting AM radios into stuffed animals and this was the best they could do!?! (lol) It didn't sound like Darth Vader at all. But his eyes did light up blue which was kind of cool.