"We can rebuild him… we have the technology… "
Many of you had this action figure in your toy arsenal, Col. Steve Austin, the six million dollar man.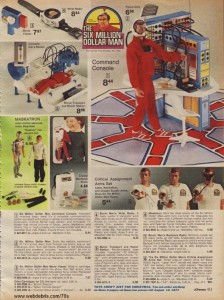 In this assortment we have the Six Million Dollar Man action figure, The Six Million Dollar Man Command Console, Bionic Transport and Repair Station, Maskatron (Steve Austin's enemy), Bionic Man's Backpack Radio, and The Six Million Dollar Man's Critical Assignment Arms Set.
Here are a few commercials for these toys.
http://youtu.be/Xj3–kt7TO0