Tag: fisher price
I was a tad to old for Fisher Price Little People, but my wife, who would have been four in 1976, loved these Fisher Price play sets. Her favorite one was the Play Family Farm.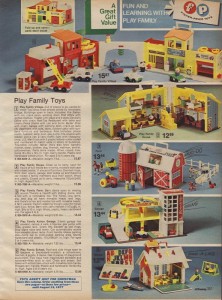 As you can see Fisher Price had a plethora of play sets to chose from like Play Family Village, Play Family House, Play Family Action Garage, and Play Family School. They had lots of add-on items which I will get to it future posts. 🙂
If you were young enough to enjoy these sets, what was your favorite?