I will apologize in advance as this post will probably be extremely boring to most people. This post is more for myself than anyone else. I wanted to store some memories.
This is the first house that I remember growing up in. My dad didn't own it, but he rented this place. The window at the top floor was the bedroom for me and my brother.  You can't see it here, but to the left of the house was an old water well with a hand pump that worked. We would also lay in that part of the yard to do our cloud watching. You see a lot of amazing shapes and images in clouds.
The lower left window was the kitchen table area. (I can't remember what room was on the right.) And if you have followed my post for any amount of time, that gravel curve is where I wiped out on my bicycle (first day without training wheels) and pushed my two incoming front teeth back up into my skull. The dentist said they would come right back down… and they did. I really like the big tree in the front yard. I have always loved huge trees.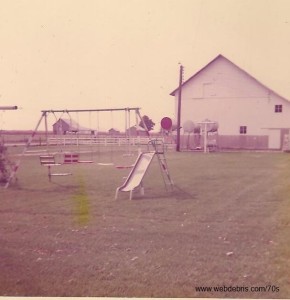 This view would be facing away from the house at the previous picture's location. That was our swing set. I remember one year bumblebees built a nest in the pipes and my dad had to smoke them out. The landlord had horses in the barn and we were able to ride them. I can only really remember one horse, so maybe there was only one, but his name was "Corky".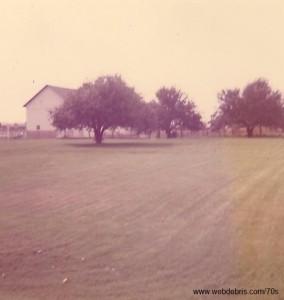 Talk about a lot of room to run around. The yard here was huge. And those three trees you see are apple trees that we use to play in. They were great trees for climbing. I have to admit though, I hated picking up all those apples out of the yard. But it was nice to be able to walk out back and pick a red apple right off the tree when they were in season.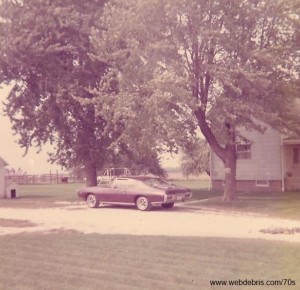 This is the last one. You can see to the left there is a dog house. We had yellow German Shepherd (it was my brother's dog, my mom and dad got it for him before I was born) named "Pebbles". Yes the same "Pebbles" from the Flintstones. You can also barely see the porch to the right, and the car was my Dad's (I think) Pontiac 442. This is also the part of the yard where a bumble bee got his stinger stuck in my pants right on my knee and stung me like a dozen times.
I had a lot of good memories here. By the time I was in 2nd grade, my dad built a house in another town about 15 minutes away and I had a whole new set of adventures there.