Hello everyone! I had to take a hiatus from blogging last week so that I could keep up with the work flow at the office. Not that I blog while working (lol), but I do 90 percent of my updating during lunch. I needed that time for other things last week.
We had a visitor stop by the blog and was talking about some of her toys and she had mentioned a beauty center. I am going to see if I can find the one she talked about but I haven't posted any beauty centers period so I wanted to start with this one.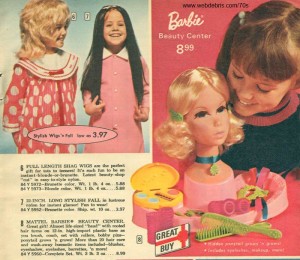 The thing that looked odd to me (granted this is only 1972) is that Barbie has a 60s look to her.