What day would it be? You will be able to relive this day over and over again anytime you want.
It seems that my child hood was big blur, I remember bits and pieces  here and there, but does one day really stick out to me?
I think mine would be a day in the blizzard of 78.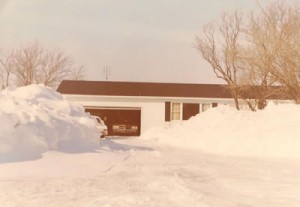 It was the most magical winter I had ever seen. The snow was so high in the backyard that you could literally walk onto the top of the house. And let's not forget that school was cancelled! Woohoo!
But it was also one of the rare occurrences that my brother and I didn't get into a fight or argument. We spent the time building snow tunnels and forts as well as playing with our G.I. Joe and Johnny West figures.
Mom and Dad would be home too. All roads were closed so it was just us, in the middle of the country with no one else around. This is probably the day I would pick.
What's yours?
I am on vacation until Jan 2nd. Not sure if I will have much time to post, so if I don't see everyone until then have a great Christmas and New Years.  I want to thank everyone for your comments. Your participation keeps me fired up to keep blogging.
Merry Christmas!