It is time for some manly post. Well, manly from the viewpoint of a 70s child!
G.I. Joe and Hombre!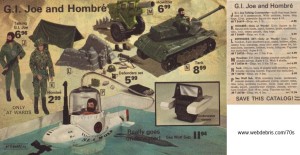 I don't recall Hombre, but our G.I. Joes were very similar to what is pictured here. We had the fuzzy hair and beard, but he didn't talk or have a kung fu grip.
The Sea Wolf submarine looks way cool. It submerges in water and has a view screen with it. I am already thinking of a ton of things that I would have used this for when I was a kid, but then I start to wonder how many of these ended up in the bottom of lakes! (I would have tried that one myself as well as taking it for a spin in an aquarium.) The tank would have been a blast too.
A great toy for a great time period.