Hmmm, my post was fine before it published, but then it fell apart. So here is the second try.
Sometimes when I look thru the catalogs it sparks memories I had forgotten. This ad did just that.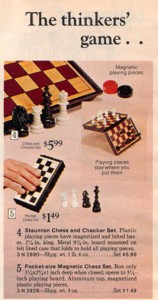 My parents bought the brown one for my brother and when he passed away it came to me. I just wish I hadn't been so careless about things because after four house moves I don't even know where it is anymore. I don't even know if I still have it.   I actually looked thru the house last night after posting this and I found it! I am not going to be so careless in the future.
I always wanted to buy this three level chess set for my dad. He taught me to play chess when I was a really young. I don't know how he had the patience, but he did, and I'm glad because I enjoy playing it.

My dad used to paint chess sets as a hobby. I still remember the last set he hand painted. My mother was talking about it at a hobby store and the owner asked if she could display it in her window to which my dad agreed. A patron who saw the chess set offered my father $100 for the set. (That was a lot of money in the 70s!) But my dad turned it down and kept that set for himself. I still recall how special I felt when dad would play chess with me using that very prized set.
These are the types of sets he would paint.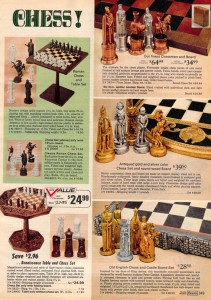 This last one has no special memories. I thought it was just fun to look at. This set is huge!