After watching the commercial for this magic material in the 70s I had to have it. Alas, Super Elastic Bubble Plastic turned out harder to make into a balloon than it seemed. I couldn't get the substance to make anything. 🙁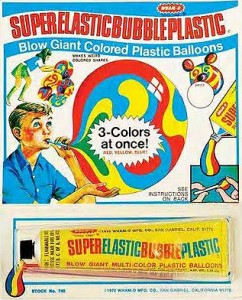 The idea was to squirt a small amount of liquid into a small ball. Then you would insert the straw into the liquid and blow it up into a large balloon. The commercial below makes it so easy!
Super Elastic Bubble Plastic was discontinued in the 80s. The reason, according to Wiki, was due to noxious fumes that could be inhaled thru the straw.