There were several Play-Doh commercials that I remember from the 70s.
The first one is for the brighter Play-Doh:
Second is the Play-Doh Pumper No. 9:
Thirdly the Fuzzy Pumper Barber and Beauty Salon:
http://youtu.be/PnQmFvDxZBA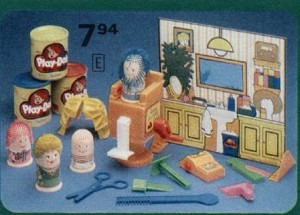 And lastly the Play-Doh Fun Factory (this commercial is actually probably 80s?):
Sadly, I wasn't allowed to play with Play-Doh. It had something to do with a scandal involving Play-Doh and a shag carpet. I proclaim my innocence! I do not remember that incident at all!