My brother and I got to pick out one gift each that we wanted from our Grandmother every Christmas. Sometime around 1970 we decided that we wanted robots for Christmas. This was the robot that my brother had picked out.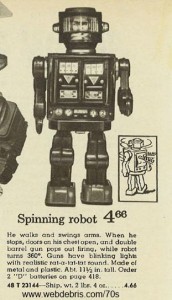 The robot took 2 "D" batteries and would walk a bit, spin, and then the doors would open with two lighted guns blazing. Way cool.
I found a picture of our robots. Notice the Robbie the Robot from the Billy Blastoff line in the upper left. I will talk about that in my next post.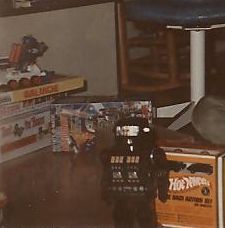 06/06/11: I found another advert for this robot in a Sears 1975 Wishbook.