Here are some G.I. Joes and accessories from the 1970. (You can click the image to zoom.)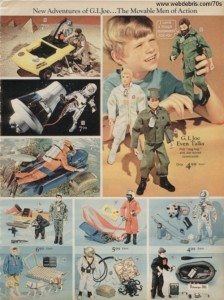 This page shows "Secret of the Mummy's Tomb", "Mystery Spacewalk Adventure", "Shark Surprise Adventure",  "Talking G.I. Joe", "Capture of the Pigmy Gorilla", "Fantastic Free-Fall Adventure", "Hidden Missile Discovery Adventure", "Fight for Survival Adventure",  "Eight Ropes of Danger Adventure", and finally "Secret Mission to Spy Island Adventure".
We had a couple of the G.I. Joes with the fuzzy beard in the upper right though ours didn't talk. I always wanted the scuba diver scene at the bottom. I still remember those commercials where the octopus attacks him. Classic.